Cambro Coolroom / Freezer Room Shelving Used - 1220mm x 460 - $260.88 + GST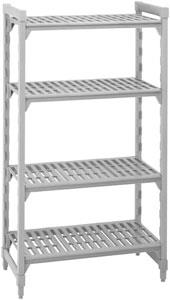 Item 8388
Cambro 4 tier food grade shelving unit that can be used for Cool Rooms / Freezer Rooms or Dry Goods. RRP - $1051.54 + GST. We only have 4 units at this price.
Camshelving Premium Series is designed to withstand the toughest conditions and harshest storage environments. It is simple to clean and adjust so that you can configure your Camshelving exactly the way you need it. Ideal for high-volume foodservice operations. All Cambro shelving comes with a lifetime warranty against rust and corrosion.
Rust proof.
Ideal for kitchens, freezers, coolers, pantries or dry storage.
Best for storing perishable products that benefit from air flow around them.
Weight capacity: 750 lbs per unit
Wipes clean and shelf plates can safely and easily go through any temperature dishwasher.
Antimicrobial protection permanently molded into shelf plates to inhibit the growth of mold, fungus and bacteria.
Designed to go from dry storage to walk-ins and coolers quickly and easily.
Stock strictly on first come first served basis. All units are in excellent condition. Stock level subject to change without notice.
W/D/H - 1220mm x 460 x 1830
Item sold as - Used
Price excludes GST and is per unit.
?IF>
View your shopping basket or browse other items.
Contact Details
Request More Information
Details of the product above will be automatically included with your enquiry.
?SQL>