Silver Chef
Silver Chef is the only dedicated hospitality equipment funder in New Zealand. We have provided flexible funding based solutions to customers for close to 30 years. Silver Chef understands your business and through our unique Rent. Try. Buy Solution we are dedicated to keeping your options open whist your grow your business.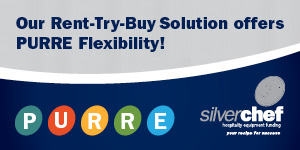 From small family restaurants to franchise groups and large corporate catering services, the right funding is essential if you want to keep your options open, and preserve as much cash as possible to grow and expand. Silver Chef provides a funding solution to give you access to quality commercial catering equipment.
Unique to the marketplace, the Rent.Try.Buy Solution allows you to save your hard earned working capital rather than spending it on depreciating assets. With Rent.Try.Buy, you aren't locked into a long term contract. Instead, we offer a 12-month agreement, so your business can be PURRE and flexible:
Purchase at any time during the 12 month period and receive 50% of the net rent you have paid.
Upgrade at any time during the 12 month period to something BIGGER and BETTER, so you are not paying for the equipment you don't need or use!
Return the equipment after the 12 month period.
Rent – continue to rent the equipment without being tied into any contract, meaning you can return the equipment anytime!
Easy Own – rent for another 3 years after your first year is up, which offers you a decreased weekly rent by 30% and by the end of the 3 years you can buy out the whole contract for $1.
Additional benefits of Rent-Try-Buy:
Low weekly rental repayments
The chance to free up your valuable working capital
The ability to try before you buy
Peace of mind from knowing you're not stuck with equipment that isn't perfect for your needs.
No directors' guarantees, so you don't have to put your house on the line!
Rental payments are 100% tax-deductible and off balance sheet so your capacity to borrow won't be affected
The ability to add further equipment as your business grows.
Renting vs Leasing:
If you've made the smart decision not to tie up capital in Catering Equipment, you now must weigh the option of renting against the more common financing option: leasing.
While leasing may look like a good idea at first glance, you need to take into account the full impact leasing Kitchen Equipment will have on your business.
| | |
| --- | --- |
| Leasing | Silver Chef Rent-Try-Buy |
| × Four-year fixed contract | - Off-Balance Item |
| × On-balance item | - No Director's guarantee required |
| × Director's guarantee required | - Buy with 50% rebate on the rent you've paid |
| × No discounted purchase option | - Return or continue renting (& lower the purchase price) |
| × Stuck with the equipment | |
A lease is a balance sheet item – which reduces your equity, your ability to borrow and, accordingly, your availability of working capital. Rent is an 'off-balance' sheet item (like salaries or electricity). This means that rental contracts have no impact on your equity, or on your ability to borrow.